Owning a mighty CPU like Intel® Core™ i7-8700K Processor implies that you're an enthusiast who looks only for the top-notch components for your rig, which consequently means that your computer will often go through heavy workload conditions that require a solid cooling system to successfully dissipate the huge amount of heat generated by the processor.
Finding the right CPU cooler for this purpose is important, but also, on the other hand, getting a cutting-edge thermal paste is not less important. That's because a thermal paste is solely responsible for transferring heat from the CPU to the heat-sink, and if this element is not functioning well enough, the whole process will be defective.
Recommending a thermal paste
So, what thermal paste do we strongly recommend for Intel® Core™ i7-8700K Processor?
In fact, there are plenty of very good thermal paste out there, but if you're looking for the best of the best, then you have the following choices as the best thermal paste for Intel i7 8700k processor:
This thermal paste is currently the most popular among enthusiasts, and it occupies the top position of their choices as a high-end conventional paste. Thus, it's our top pick for Intel® Core™ i7-8700K Processor and any other CPU intended for handling extreme workloads.
Official Description: Thermal Grizzly Kryonaut Thermal Paste was specially developed for extremely demanding applications and the most demanding of Overlocking community. Kryonaut also recommended as a top product for critical cooling systems for industrial use.
Kryonaut uses a special support structure, with no drying processes and starts at 80 ° C. This support structure ensures that the contained nano-aluminum and tin oxide portions of the paste combine perfectly and so any unevenness of the heat output (eg the CPU) and a heat sink are optimally compensated with outstanding thermal conductivity.
Feature Highlights
Delivers optimal heat transfer for larger-scale cooling systems, including water cooled systems
Designed with extremely demanding applications
Popular choice for overclockers and extreme gamers
Thermal conductivity 12.5 W/mk
Testimonials & Awards
After almost 6 years in lead of the market, GC-Extreme lost the battle against the new Kryonaut from Thermal Grizzly (talking about conventional paste)… Thermal Grizzly Kryonaut is the best normal paste on the market at the moment.
overclocking.guide (June 2015)
Thermal Grizzly is going up against some very tough competition, as there are a huge range of thermal pastes on the market to choose from and some of them have been proven and established for many years. Gelid GC Extreme is a popular choice for overclockers around the world, and we here at eTeknix have been using it for years in all our cooling tests, on our test benches and even in our own personal systems. I am happy to say that Grizzly is just that little bit better than GC Extreme, not so much so that I would feel compelled to take my cooler off and change my thermal paste, but close enough that you would find it's a good alternative to GC Extreme.
eTeknix (May 2015)
---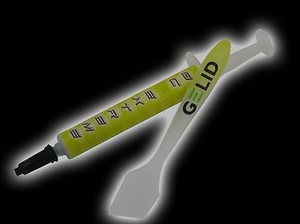 This great thermal paste comes second on our recommendation list for Intel® Core™ i7-8700K Processor. The performance difference between it and the above one is marginal (Almost 2 degree difference only). So either pastes is a good choice, we believe.
GELID Solutions might not be as aggressive as other brands in terms of marketing, but there isn't a senior enthusiasts that doesn't knows the name GELID Solutions especially when it comes to PC cooling. Created for Extreme Users on highest level, the GC-Extreme thermal compound achieves excellent heat conductivity from your CPU, VGA or even Chipset to your cooler. The GELID applicator enables an easier application. The GC-Extreme has a very consistent performance comes a little more expensive than ordinary pastes, but still a worthy thermal compound to investment in if you're looking for a good thermal compound with a solid performance.
Feature Highlights
Ultimate Heat Conductivity
Non-Electrical Conductive Compound
Non-Corrosive, Non-Curing & Non-Toxic
No Bleeding & User Friendly
GELID Applicator
Net Content of 3.5g or 1g
Testimonials & Awards
GC-Extreme is the best thermal paste in our round-up, maintaining a slim lead over the runner-up as long as you're using a heat sink with high mounting pressure.
Tom's Hardware (Oct 2013)
Taking a massive 18 degrees Celsius off the normal paste that comes with your Intel processor, and outperforming all of it's competition, the GC-Extreme is what you're looking for if you want the highest performing grease in the market. Being paired with the GELID applicator (an innovative, flexible piece of plastic), you should not have to look any further than GELID Solutions GC-Extreme when shopping for some new thermal compound.
Techpower Up (Jul 2009)
I have used GELID Solutions GC-Extreme for the MSI Master Overclocking Arena EMEA Final. It workes very well with subzero temperatures and led us to win!
Matei Mihatoiu, Winner of MSI Master Overclocking Arena EMEA 2011
GELID's GC-Extreme thermal compound is a clear winner, as it provides lower temperatures for the same price. It is clear that GELID Solutions keeps getting better and better in this game, and GC-Extreme is a clear proof of that. If you take the MSRP of $9.99 into consideration, GC-Extreme has a clear advantage over the competition and it clearly deserves our Recommended Award.
Fudzilla.com (Aug 2009)
---
Conclusion
The superb Intel® Core™ i7-8700K Processor is worth a mighty cooling system that matches its steep prestige, and without a highly performing thermal paste, the whole cooling system won't function to the level it is designed for. So make sure you have picked the right paste, and if the above ones failed to win your interest, then you may go for other options laid out in our top CPU thermal paste list.